I had wanted to read this, so when I saw the audio book at the library, I grabbed it!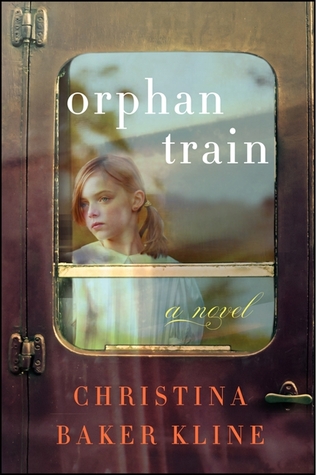 Stats: The audio book is 7 discs or 8′ and 35″ worth. Narrated by Jessica Almasy and Suzanne Toren. Print book is 278 pages and published in 2013
Blurb: (Goodreads) Nearly eighteen, Molly Ayer knows she has one last chance. Just months from "aging out" of the child welfare system, and close to being kicked out of her foster home, a community service position helping an elderly woman clean out her home is the only thing keeping her out of juvie and worse.
Vivian Daly has lived a quiet life on the coast of Maine. But in her attic, hidden in trunks, are vestiges of a turbulent past. As she helps Vivian sort through her possessions and memories, Molly discovers that she and Vivian aren't as different as they seem to be. A young Irish immigrant orphaned in New York City, Vivian was put on a train to the Midwest with hundreds of other children whose destinies would be determined by luck and chance.
The closer Molly grows to Vivian, the more she discovers parallels to her own life. A Penobscot Indian, she, too, is an outsider being raised by strangers, and she, too, has unanswered questions about the past. As her emotional barriers begin to crumble, Molly discovers that she has the power to help Vivian find answers to mysteries that have haunted her for her entire life – answers that will ultimately free them both.
What I liked: The story goes back and forth between Vivian early years and present day when Vivian come in contact with Molly. Kline connects the two characters in present day and in life situations in such a way that is seems very believable and not just to fit the story. She has obviously done her homework, so to speak, in that there is a lot of detail related to the various time periods – dress, food, lifestyle, situations… – that makes the story that much more real. It is heartbreaking to think that some of these "train kids" were treated as small slaves or at minimal very poorly, but I'm sure it occurred more times than we would like to think since child labor laws weren't enacted until 1938 and these trains were to have run between 1854 and 1929.  Jessica Almasy and Suzanne Toren do a fine job with the narration. I don't know who did what voices, but I enjoyed listen throughout.
What I didn't like: The only thing I can say on this count is that Molly foster mother was overly sensitive – throwing Molly out for really no good reason. Having Molly do or say something a bit more deserving of getting the boot would have made it more believable. Though I suppose this could have happened if her idea of foster care was more for the money vs helping a child. I would guess this happens in real life as well.
Rating: 4/5