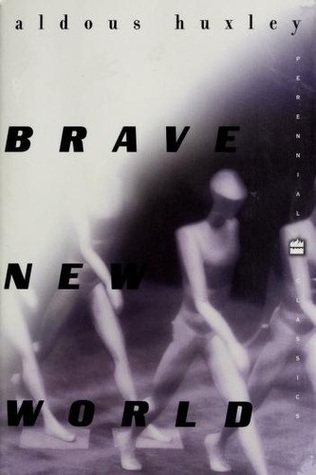 I know this is famous book so I thought I should read it. It's definitely dated but the concepts are still something to talk about. I didn't study this in school so I don't know the history behind it.
Stats: First published in 1932, this unabridged audio book is narrated by Michael York and is 8 hours in length, printed book is 288 pages.
Blurb: Far in the future, the World Controllers have created the ideal society. Through clever use of genetic engineering, brainwashing and recreational sex and drugs, all its members are happy consumers. Bernard Marx seems alone harbouring an ill-defined longing to break free. A visit to one of the few remaining Savage Reservations, where the old, imperfect life still continues, may be the cure for his distress…
Huxley's ingenious fantasy of the future sheds a blazing light on the present and is considered to be his most enduring masterpiece.
What I liked: Not really sure. As a mental exercise, I guess the story would be interesting to talk about – how the new world is set up and seems to work focused on sex and lack of any distress. But as I mention below, the world and it's characters didn't really interest me so it was hard to enjoy it as a story. And maybe that was the point.
What I didn't like: It all seemed kind of silly to me – a engineered "perfect" world – which I'm sure was at least one of the points Huxley was trying to make. But it was so much so that I couldn't believe in it as a "real" world and thus interested me less then other dsytopean worlds I've read about. It is an early version of such a book, so that might be part of it. It seemed like intially the story is going to focus on Bernard, but then the "Savage" is brought into the story and takes it in a slightly different direction – I suppose to more easily illustrate the silliness of the present world. Why the Controllers allow this old, imperfect world to exsist is hard to understand. You would think they would just kill people that don't conform or fit in the new world. I think Fahrenheit 451 created a more believeable world with more likeable characters.
Rating: 2.5/5