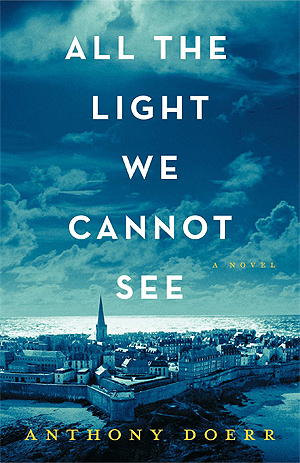 I had heard of this title, so when I saw the audio version in the library, I picked it up.
Stats: Published in 2014, print is 531 pages, audio is narrated by Zach Appelman, 13 discs
Blurb: Marie-Laure lives in Paris near the Museum of Natural History, where her father works. When she is twelve, the Nazis occupy Paris and father and daughter flee to the walled citadel of Saint-Malo, where Marie-Laure's reclusive great uncle lives in a tall house by the sea. With them they carry what might be the museum's most valuable and dangerous jewel.
In a mining town in Germany, Werner Pfennig, an orphan, grows up with his younger sister, enchanted by a crude radio they find that brings them news and stories from places they have never seen or imagined. Werner becomes an expert at building and fixing these crucial new instruments and is enlisted to use his talent to track down the resistance. Deftly interweaving the lives of Marie-Laure and Werner, Doerr illuminates the ways, against all odds, people try to be good to one another.
What I liked: The writing is good; not too surprising since he's a multi-award-winning author. Doerr obviously took a lot of time researching his information, which helps to put the reader into the lives of the characters at the time and place – not your typical WWII story. I like that the main character is blind.  It adds an interesting perspective and circumstances to the story. The jewel in the story is a different kind of subplot. Not exactly sure why it's there but it does work.
What I didn't like: It's a bit slow. It took me about 5 discs until I finally cared enough about the characters that I wanted to continue listening. I guess when you're a famous writer, you are afforded the luxury of taking your time getting your story going. Most authors aren't given this luxury, but it's nice that some are. Allows for more diverse reading options. I'm not sure I'd have made it through in the print version. The end drags a bit too, though it is nice to hear where each character ends up – I guess. I didn't love it like many others did. But that's what makes the world go round, doesn't it 🙂
Rating: 3.5/5