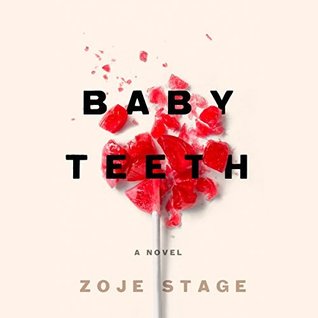 Thought I'd get two birds with one stone, as they say. Listen to this Old Tune while reading a book review!
Stats: The print book is 304 pages, published in 2018, audio book is 11′ long, narrated by Gabra Zackman.
Blurb: Sweetness can be deceptive. 
Meet Hanna.
She's the sweet-but-silent angel in the adoring eyes of her Daddy. He's the only person who understands her, and all Hanna wants is to live happily ever after with him. But Mommy stands in her way, and she'll try any trick she can think of to get rid of her. Ideally for good.
Meet Suzette.
She loves her daughter, really, but after years of expulsions and strained home schooling, her precarious health and sanity are weakening day by day. As Hanna's tricks become increasingly sophisticated, and Suzette's husband remains blind to the failing family dynamics, Suzette starts to fear that there's something seriously wrong, and that maybe home isn't the best place for their baby girl after all.
What I liked: Stage does a good job at pulling you back and forth about who you are rooting for. Most times it is Suzette, but not always. Stage makes the character believable, more so Suzette than Hanna, but maybe only because I don't know anyone like Hanna. I can't quite figure out Hanna's age from the story, which might help me decide if she was smarter than she normally would have been, but the narration and text makes me think she is 6 or so. The narration by Zackman is very good, btw, for all the characters. They sounded like very distinct people – and the text helped with that as well. The ending, which I won't give away, was interesting.
What I didn't like: Despite how real the characters are, I didn't really empathize with any of them to any degree. I suppose that is part of the risk of making the reader go back and forth on who they were rooting for. The ending… well, I'm still not sure if I liked it or not. I think it was probably best left the way it was. Now you have to read it and decide for yourself!
Rating: 4/5