Interview with Author of Five Ferries
William Michael Ried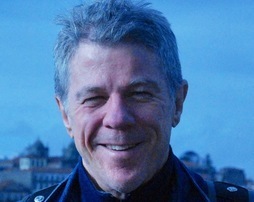 I've worked with Bill and I think the story of how his book came to be is as interesting as the story itself.
What is Five Ferries about?
I hear this question all the time, but it focuses on the story at the expense of what is more important: the themes or abstract things that give the novel internal coherence. Five Ferries is "about" the hero's post-college attempt to work his way around Europe and along the way to work out inner conflicts involving his family, his feelings about the Vietnam War and his relationship with a woman. More important are the underlying themes:
In an ordered, modern life, adventure is still possible. Stephen Kylemore takes his one chance to go off script, to throw a stick in the air and go the way it points and thus to get a taste of freedom and adventure.
Freedom comes at a cost. It isn't easy to break away and seek your own path, but the reward is worth the price.
Survival on your own in an unknown country requires nothing more than flexibility, resilience and learning to trust your instincts.
People are basically kind, and are the same everywhere in their essential humanity.
The young must rebel, but in the end loyalty to family and country bind them and comfort them.
How did you do research for your book?
I researched Five Ferries by living it. For the first thirty years I spent writing, my book was a memoir. Only in the last ten years did I realize the book would find a wider audience as a novel, and so I adjusted the action and added an overall story arc. In the early years I researched details by reading other novels and books about the places I had visited and putting in time in the map room of the public library. In recent years research became available at the push of a key. It is simple to confirm a river's direction or describe the architecture of a building when you can instantly call up images on a search engine.
Why does your book reference to so many novels, films and musical works?
I initially wrote Five Ferries as a memoir. Like my hero, on my trip I read all the books I could find. When traveling alone in places where I couldn't speak the language, the characters in these books were my only traveling companions and they both comforted me and helped shape my view of the experience. By coincidence, the books that fell in my way turned out to be many classics, including those referenced in the novel: The Nick Adams Stories; The Innocents Abroad; Don Quixote; Steppenwolf; The Magus; The Ambassadors; Madam Bovary; The Trial; Anna Karenina; On the Road; Tom Jones; and Ulysses. To acknowledge my debt to these books I made my hero an English major obsessed with literature. But I needed more than novels to establish the story's cultural and political context, and so I added I references to the music, film and visual arts that embodied Stephen's perception of the creative world. I hoped these references would serve as a shorthand way of setting Stephen in a place and time.
There are many books about coming of age/travel adventure. What makes yours different?
I believe each novel builds upon those that came before. American literature has often told of the young man embarking on a travel adventure. Moby Dick and Huckleberry Finn expressed this in traditional story-telling set in a nation itself coming of age in the nineteenth century. In the twentieth century, war became increasingly mechanized and destructive and caused upheavals in society and the literature of adventure. The hero of The Sun Also Rises travels from Paris to Spain, numbed by the experience of World War I, and Hemingway stripped away the pretense of past narrative style to express his characters' cynicism about the cause of and justification for the "war to end all wars." On the Road tells of the protagonist's travels across North America following World War II, searching for self-knowledge and experience in a world and language of jazz in what Kerouac called the "beat generation." In Five Ferries, I wanted to create a hero who leaves behind the tumult of the 1960s and the Vietnam War for his first trip to Europe, to seek freedom and a broader view of the world infused with both the great literature of the past and the rock music the 1970s.
Why did it take you forty years to finish Five Ferries? Did you suffer decades of writer's block?
By the time I finished law school in 1982 I had outlined all the chapters of Five Ferries (under its earlier title "Europe on No Dollars a Day") and written rough drafts of most. I then moved to New York City to look for work, taking only two suitcases and sleeping on a friend's sofa. When I found a job and an apartment, a classmate offered to transport the rest of my belongings from Washington, D.C., including the cod box that kept my manuscript safe. After driving up to the city he parked his car on the street in Greenwich Village on Halloween night 1982, taking inside my portable black & white television set but leaving the rest of my belongings in the car. Someone broke into the car and took everything, including the cod box and four years of effort on my book.I was, of course, devastated. I spent nights and weekends patrolling the Village and the Lower East Side, looking in garbage piles and sketchy alleys for the cod box and the telltale typing paper boxes that held my chapters. I taped up signs asking for help. When I asked The New York Post to print an article about my plight, a reporter asked what the book was about. I said mostly about a trip I had taken to Europe. He laughed and said: "So what, did you do it on one leg or something?" (This was the beginning of my disdain for the question: "What is your book about?")The loss of the manuscript blocked me from working on my novel for years. I turned to short stories, because I could hope to finish them and make copies so I would be sure I wouldn't lose them. But by 1987 I again felt the need to write a novel and decided to rewrite what I knew rather than start from scratch. So, I replicated my outline and began again to write the chapters. In 1995 I got a computer, which made everything easier. Still, with work and young children it was hard to find time, and it took me until early 2017 to complete the book, and another sixteen months to publish it.
6. How would you describe the "style" of Five Ferries?
In one scene of Five Ferries the characters discuss "building" a novel, as if this might be building a house. In fact, I initially hoped to expand the concept of a novel by constructing chapters in an assortment of styles inspired by the literature and music Stephen encounters. After twenty years, the "blueprint" for this book included chapters in: (i) the omniscient style of Dickens; (ii) the character-centric perspective and flowery language of Cervantes; (iii) an invented fugue-like form inspired by Bach, with rhythms structured from word groupings and punctuation grouped in thematic voices; (iv) a narrative melding dreams with reality in the mode of Kafka; (v) a silent movie screenplay to represent the hero's inability to communicate in the local language, with moods set by a musical score; (vi) a Henry Fielding romp across the English countryside; (vii) a recent past story interspersed with present-tense stream of consciousness; and (vii) a "mezzotint" of themes rising from a dark background of setting and flashbacks.
Reading such novel—if I could pull off the writing—would have required a huge investment of time and energy, and it finally occurred to me that no one would be writing a doctoral thesis on my debut novel. I thus shifted gears and tried to address my themes while giving readers what they mostly want: likeable characters in a believable story they can follow and enjoy. Thus, after numerous attempts to find a narrative voice, I completed Five Ferries in the consistent past tense, first-person perspective of the protagonist, Stephen Kylemore. The story unfolds for the most part chronologically and the setting follows Stephen's path through Western Europe. As Flaubert famously said, the novelist is one who seeks to disappear behind his work, and I hope I succeeded in this.
What was your goal in writing Five Ferries?
E.M. Forster said the final test of novel is our affection for it, and for most readers this depends on how well the story catches their imagination and creates characters they like and how the plot makes them need to know what comes next. I hoped to check these boxes. But the real value of a novel, what justifies the time it takes to create and to read, is its unique ability to help the reader discover something unknown about the human condition, and it was my real goal to do that.
If there were one thing you wanted readers to remember about you, what would it be?
That I recorded something true about what it was like to be young man on the road in 1978.
ISBN: Paperback – 9781949085020;   Ebook – ISBN 9781949085013
You can also follow him on instagram: http://www.instagram.com/fiveferries
Or go to his website: fiveferries.com,
Here he is on Goodreads: https://www.goodreads.com/book/show/42286682-five-ferries
More about Bill: William Michael Ried was born on Long Island, graduated from the University of Michigan and Georgetown University Law Center and has practiced law in New York City for thirty-seven years, almost as long as he spent writing this book. He lives with his wife in Manhattan. Five Ferries is his first novel.